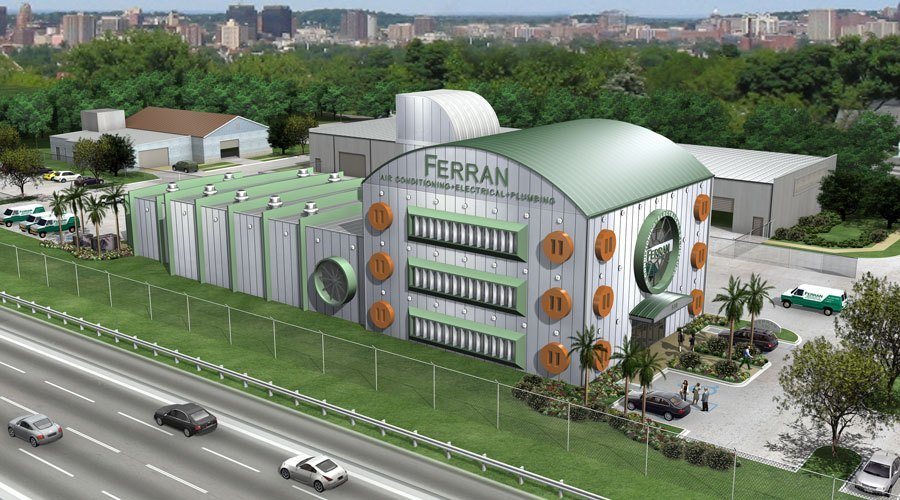 Ferran Services & Contracting's new headquarters located at 530 Grand Street in downtown Orlando.
The unique design of our headquarters came from the vision Dolph Marmetschke, it's owner, and Leonard Feinberg, the architect, had to construct a building that was all "Ferran." The interior has a completely open ceiling design to showcase the craftsmanship you can expect from each of our trades, while the exterior tells the story of who we are and the services we provide. Each of our employees feels a vested interest knowing they have either been an inspiration for the design of, or an actual contributor to the construction of our workplace.
The building is in fact a reflection of an underlying corporate culture: You can be practical and efficient while having fun!
---
Interesting Facts:
---
Architect: Leonard Feinberg (The Evans Group), General Contractor: Roger B. Kennedy Inc.
14,000 Square Foot- Office Space 7,000 Square Foot- Warehouse
Demolition: June 21, 2006- Grand Opening June 21, 2007, exactly one year!
When the first (and largest) of Ferran's two on site buildings was demolished 6/07 to make way for our new building, it became necessary for our second onsite building to become Headquarters. Supporting Ferran's operations, in its entirety, required moving, then adding four times the original number of employees and all Ferran warehouse inventory to the existing building. Despite these conditions, and due to the caliber of our employees, the company experienced growth throughout the construction year.
Ferran's Headquarters Office building has won many awards: the "Eagle" Award for Excellence in Construction, from ABC (Associated Builders and Contractors), the "Auora" Award from SEBC (Southeast Building Conference), and the "Golden Brick" Award from the Downtown Orlando Partnership.
---
Fun Facts:
---
Daily Brew

---

Did you know that when owner, Dolph Marmetschke, met with Architect Leonard Feinberg to commence the design of our building, it was all about the coffee? It is no coincidence that at the center of the "breeze-way" (the area located between our Administrative Offices and the Warehouse) sits a pair of coffee pots! Around these each and every morning men and women, both administrative and field, build and maintain camaraderie while conducting crucial Ferran business. From day one, this became the focal point of its design.
All Aboard!

---

Miss your train? No worries, you can catch the next one in Ferran's on site training facility. Large screen television, projection capability, computer jacks and receptacles at every station, afford our tradesmen the ability to chug, chug along on the path of continuing education in their fields and invaluable safety instruction!
Duct, Duct, Goose

---

Ferran is IT! Is there something geometrically familiar about the styling of our headquarters? You guessed it, our building's structure mimics an actual duct system!
Cool Perk

---

Busy Summers in the AC business are no sweat for Ferran Employees! A 38 Ton Carrier Aqua Snap Air Cooled Liquid Chiller, combined with our in-house ALC controls makes keeping cool a SNAP!
Venting at the Office

---

Venting at the office is generally considered taboo, not so at Ferran Headquarters! The elongated mock AC vent windows afford employees so much natural sun light, that many offices operate with their switches off (using only 50% of their electric lighting capability) on a daily basis.
Biggest Fans!

---

We love treating our biggest fans, Ferran Customers, to our biggest fan! The eye-catching yellow fan has a 12′ diameter and is actually fully functional! Amazingly, the speed you see it turn from I-4 is only ONE QUARTER of its capacity!
Go Green with Ferran

---

At Ferran, green is no longer just our trademark color! Recently, each of our 81 exterior fluorescent lights, were retrofitted with LED energy efficient options. We are on track to install a 25K system comprised of more than 100 solar photovoltaic panels on the north side of our building which will allow us to partner in conservation by selling power back to our utility company!
ORANGE you Glad we didn't go Bananas!

---

There are 18 orange receptacles marking the corner offices of Ferran Headquarters, but I bet you'd never have guessed there are more than 195 available for use inside! Quite a Plug for our Electrical Department!
No Pipe Dream

---

If you are headed back for more sleep because you thought you saw actual plumbing pipe in lieu of traditional columns supporting Ferran's front door portico, it is time to rise and shine! That was no pipe dream, rather cast iron plumbing pipe.