The quality of the air inside your home could have a huge effect on you and your family. Breathing in dust, dirt, and debris could lead to long term health problems. It's important to ensure that your home is comfortable, and that the air is safe to breathe. At Ferran Services, we provide Indoor Air Quality (IAQ) services throughout Orlando, Volusia, Winter Park, Windermere, Oviedo & Lake Mary, FL. We will determine your specific issues, which allows us to create strategies and ensure both immediate and long-term improvement.
Indoor Air Quality Solutions For Your Home
Indoor air quality issues could be a result of a malfunctioning HVAC system. If your system is clogged up with dirt and dust, for example, it won't function properly. Not only will this effect your comfort level, but it will also cost you money. At Ferran Services, we specialize in industry-leading options that incorporate into your existing HVAC system, operate quietly, and require little maintenance. We target everything from insufficient ventilation to excess humidity, airborne bacteria, and more.
Reduce CO2 with Ferran Services
If you're worried about carbon emissions from your HVAC system, Ferran Services is here to help with highly efficient HVAC systems and indoor air quality options. We are dedicated to helping our customers reduce their carbon footprint with expert advice on how you can optimize your systems for cleaner air and greener solutions. Contact us today to learn more about how we can help.
REME HALO system
Take care of your family's health by creating safer air in your home. Ferran Services offers the REME HALO system. This state-of-the-art system connects directly to your heating and cooling system, and can reduce up to 99% of germs and bacteria that cause the common cold and flu. Contact us today at 407-422-3551 to request an appointment and learn more about the REME HALO system.
Dual ionizers to reduce airborne particulates (dust, dander, pollen, mold spores)
Kills up to 99% of bacteria, mold and viruses
REME® reduces sneeze germs by 99% in the time a sneeze can reach three feet.
New zinc ions kill 99% of viruses on surfaces
Unlike portable units that are limited to the room in which they are placed, the REME HALO® provides whole home and building purification.
Easily integrated with your existing HVAC system. The unit doesn't take away living space and operates silently.
Two (2) quick release features for easy, no tool, cell replacement
Incorporates an adjustable shroud around the REME® cell, which allows customization of the advanced oxidation plasma output.
Recent Study
RGF® Environmental Group, Inc., a leading environmental design and manufacturing company, has released the results of a third-party study that reveal REME HALO® efficacy of 99.9% against the SARS-CoV-2 virus, commonly known as the coronavirus 2019 or COVID-19.
Click the image below to read the full study
RGF REME HALO SARS-CoV-2 Study Results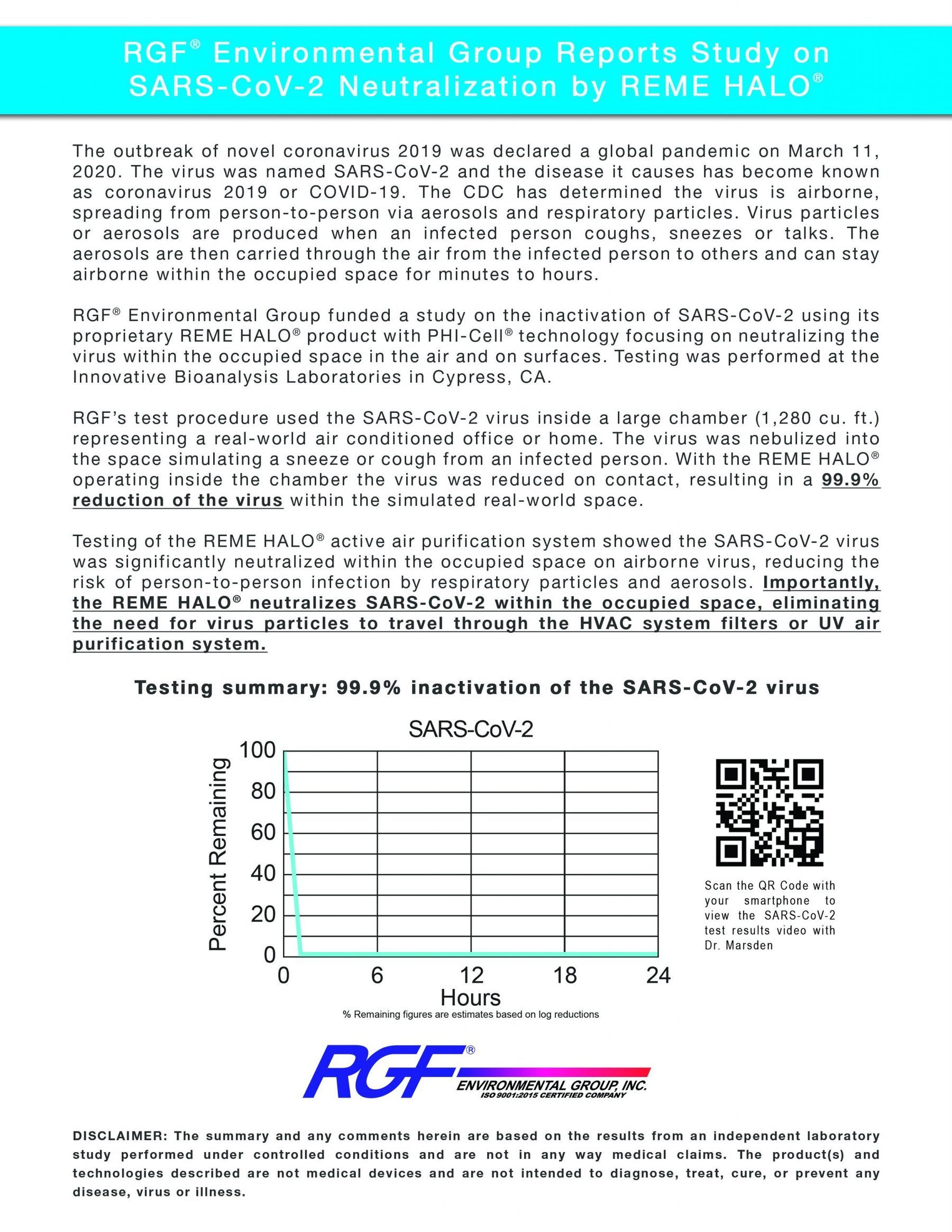 ---
View Our Other Services